As of today, the Walters Art Museum still refuses to meet with workers to determine a fair union election agreement that includes all eligible workers. Since going public on April 30, we have secured supermajority support for a union among co-workers, and have even garnered the support of Baltimore City Council members and the Baltimore City Comptroller along the way. However, despite all of this, we face an impasse as management at the Walters refuses to come to an election agreement.
Want to know how you can support Walters Workers United?

Email executive director, Julia Marciari-Alexander, at [email protected] and urge the Walters Art Museum to stop union-busting and meet with workers or determine a neutral, third-party union election agreement as soon as possible.

Walters Workers United Campaign Timeline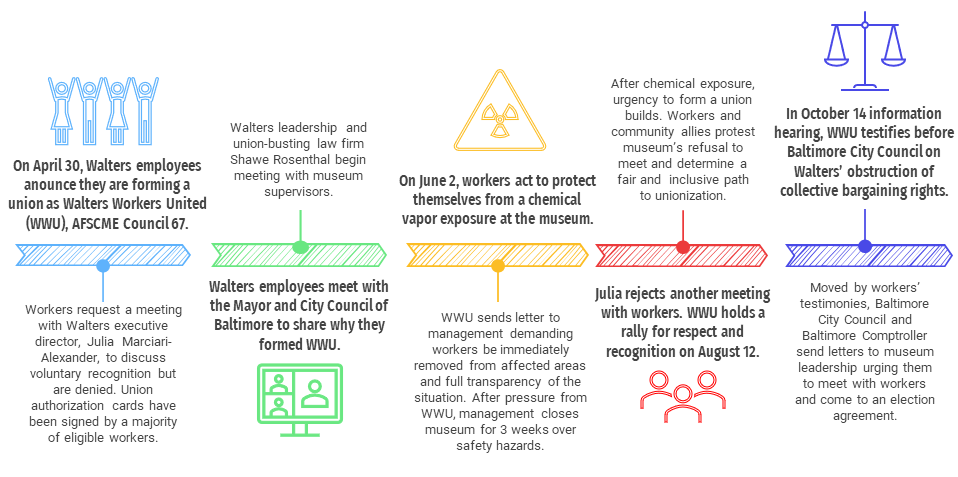 RESOURCES & LINKS
11/2 Walters Art Museum Response to Baltimore City Council
11/2 Walters Art Museum Response to Baltimore City Comptroller
10/21 Baltimore City Council Letter of Support for WWU
10/14 Baltimore City Council WWU Informational Hearing Recording
10/14 Baltimore City Comptroller Letter of Support for WWU
7/26 WWU Letter Requesting to Meet
6/9 WWU Health and Safety Letter to Management
Walters Workers United Mission Statement