Major Campaign Update: On March 11, 2022, HB 1485, which would extend collective bargaining rights to us at the Walters Art Museum was introduced. More details to come!

Background: Since announcing our plans to unionize on April 30, 2021, we have secured supermajority support for a union among our co-workers. Hundreds of community members have signed our support letter and we have even garnered the support of Baltimore City Council members and the Baltimore City Comptroller. However, the Walters Art Museum still refuses to agree to a union election that would include our co-workers across all departments. Despite this impasse, we will continue to seek a fair path toward union recognition for our wall-to-wall union.
Want to know how you can support Walters Workers United?

Click here to sign our community support letter! By adding your name, you'll join a growing list of supporters that includes community members, business owners, labor allies and elected officials. We'll also send you updates from our campaign and future ways you can support Walters Workers United!
Walters Workers United Campaign Timeline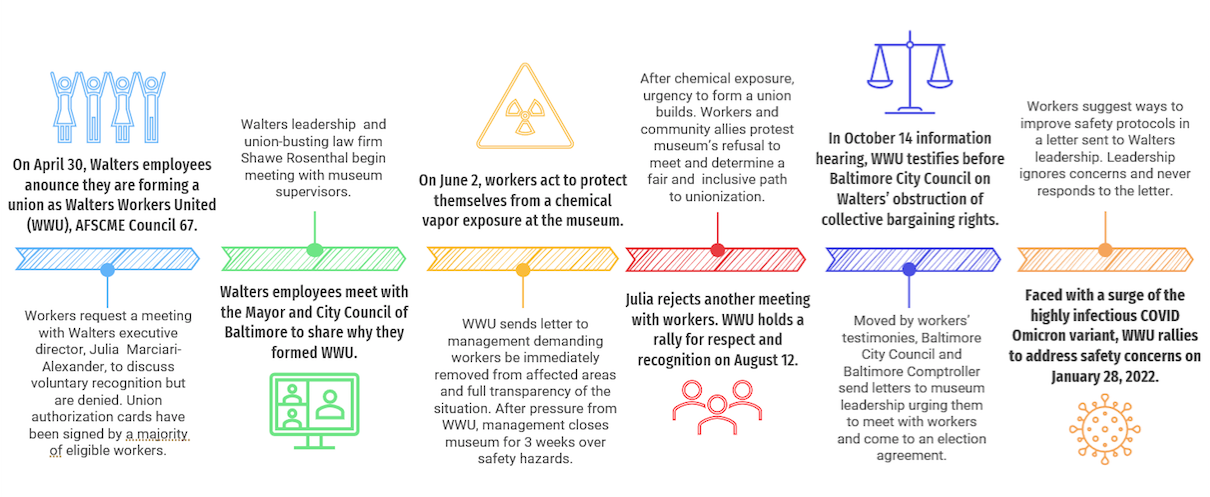 RESOURCES & LINKS
2/17/22 Baltimore County Executive Letter of Support for WWU
1/28/22 WWU COVID Safety Letter
11/2 Walters Art Museum Response to Baltimore City Council
11/2 Walters Art Museum Response to Baltimore City Comptroller
10/21 Baltimore City Council Letter of Support for WWU
10/14 Baltimore City Council WWU Informational Hearing Recording
10/14 Baltimore City Comptroller Letter of Support for WWU
7/26 WWU Letter Requesting to Meet
6/9 WWU Health and Safety Letter to Management
Walters Workers United Mission Statement